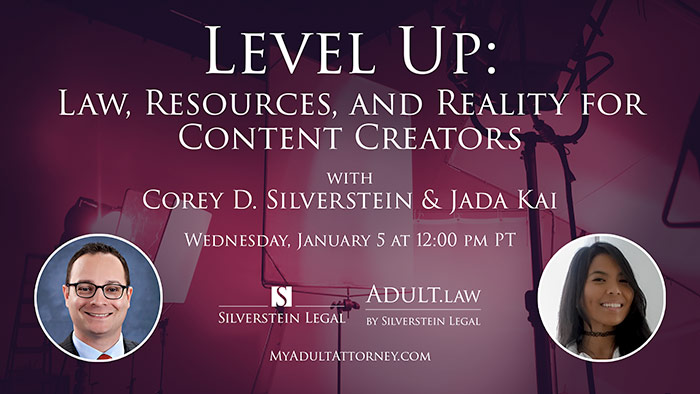 Silverstein and Kai will be discussing legal realities for content creators during XBIZ LA 2022!
Cyberspace (December 22, 2021) – Attorney Corey D. Silverstein and industry icon Jada Kai will be discussing legal realities for content creators during XBIZ LA 2022. "Level Up: Law, Resources & Reality for Content Creators" will happen on Wednesday January 5 at 12 pm PT. The event will be moderated by Dr. Chauntelle Tibbals.
As an independent content creator in today's adult entertainment landscape, having a solid legal backing and working understanding of one's rights and obligations as a business are more important than ever. Combining that legal knowledge with everyday good business practices are a key to success.
Silverstein, the driving force behind Silverstein Legal and Adult.Law, will unpack the ins-and-outs of legal issues facing independent content creators today, as well as share resources available via subscription-based legal service Adult.Law.
"In today's world of increased banking and processing scrutiny, it's time to get serious about the proper documentation that independent content creators need to maintain in order to be fully compliant," Silverstein said. "This seminar is designed for all content creators, from people who are new-to-the-industry to industry veterans. This special workshop cannot be missed!"
Kai will join Silverstein during this event, sharing her personal experiences dealing with the everyday activities of being successful in the adult industry alongside legal issues facing independent content creators.
"I am looking forward to sharing some of the experiences that I have had so far in this industry," Kai said. "As an adult content creator, things are constantly changing and it is important to protect our content and our businesses."
"Let's come together and learn how to use our resources with Corey and Adult.Law," she continued.
Join Silverstein and Kai for "Level Up: Law, Resources & Reality for Content Creators" January 5th at noon during XBIZ LA. The XBIZ LA tradeshow is happening from January 3 – 6 at the Kimpton Everly Hotel in Los Angeles, CA.
Silverstein is the managing and founder member of Silverstein Legal and the founder of subscription service Adult.Law. His practice focuses on representing all areas of the adult industry. Those interested in retaining Adult.Law's services can learn more about subscription tiers here.
Join Silverstein on Twitter at @myadultattorney and on Instagram at @coreydsilverstein.
About Silverstein Legal
Founded in 2006 by adult entertainment lawyer Corey D. Silverstein, Silverstein Legal is a boutique law firm that caters to the needs of anyone working in the adult entertainment industry. Silverstein Legal's clients include hosting companies, affiliate programs, content producers, processors, designers, developers, and website operators.
About Adult.Law
Adult.Law is a subscription legal service founded by attorney Corey D. Silverstein. Launched in 2020, Adult.Law aims to make legal counsel accessible to as many members of the adult entertainment community as possible. Adult.Law subscribers receive 24/7 access to legal resources specific to the adult industry and individualized 1-on-1 legal consulting from one of the most experienced legal teams in the space.