Adult Attorney | Adult Lawyer | Silverstein Legal
Welcome to the best source for legal representation relating to the adult industry. Whether you are a webmaster, content producer, content provider, content reseller, hosting provider, performer, actor, actress, producer, payment processor, affiliate program, website manager, website operator, website owner, software producer, website designer, programmer, advertiser, traffic broker, surfer, or are otherwise involved in the adult entertainment industry, Silverstein Legal will provide you with the prompt and aggressive representation that you need.
Size doesn't matter! Whether you are an individual or your business is small, large, domestic, or international, Silverstein Legal will address your specific legal needs with innovative and flexible methods and solutions.
If you are seeking the best adult entertainment lawyer, then look no further. Silverstein Legal's experience and knowledge together with a commitment to results and client satisfaction enables us to answer all of your questions and help solve all of your problems, whatever they may be. Our law firm is comprised of some of the most innovative and technically savvy internet lawyers and entertainment attorneys and our clients engage in the operation of multiple types of websites including but not limited to: webcam sites, dating sites, social media sites, tube sites, subscription sites, novelty sites and more.
The adult industry has never been more legally complex. No matter what area of the adult industry you are involved in, our office and adult entertainment attorney Corey D. Silverstein can get you answers that you need. Whether your issue involves, 18 USC §2257, record keeping compliance, content evaluation, obscenity, first amendment, censorship, DMCA, copyright issues, contractual issues, corporate law, criminal defense, business structure, litigation, domain name disputes, or privacy issues our experienced and knowledgeable adult lawyers are ready to assist you. Visit Our Services page for a more detailed list of our services.
Our firm's managing member, Corey D. Silverstein has been involved in the adult industry for almost a decade in both a legal and non-legal capacity and his client portfolio includes some of the largest adult industry businesses in the world. His years of experience and understanding of the special nature of individuals and companies alike in the adult industry enable him to fight and protect you or your business. For a more detailed profile on Mr. Silverstein please visit the About page.
Advertisement and Traffic Brokers
We are experienced in representing some of the largest traffic and advertisement brokers in the online community today. Traffic and advertisement brokers are constantly dealing with complex technology related contracts and transactions, and our attorneys have the advanced technical and legal skills necessary for these issues.
Content Producers
Our attorneys have decades of experience representing content producers and ensuring that their intellectual property rights are protected. We are experienced in age verification and record keeping issues.
Domainers
Our firm represents some of the most successful domainers in the world and we have substantial experience dealing in the sale and purchase of multi-million dollar domain transactions. We also have a tremendous amount of experience assisting our clients in domain name disputes.
Internet Service Providers (ISPs) / Hosts
Our firm proudly represents individuals and businesses that sell or lease: internet hosting, collocation, bandwidth, servers and various other technology.
Payment Processors
Our lawyers understand the legal complexities involved in the payment processing industry and have substantial experience representing merchants, merchant account holders, third party billing services, payment gateways, and alternative payment processors.
Website Owners and Operators
Our firm proudly represents the owners and operators of various types of websites including but not limited to: paysites, freesites, affiliate programs, tube sites, cam sites, dating sites, search engines, novelty stores, blog and online communities.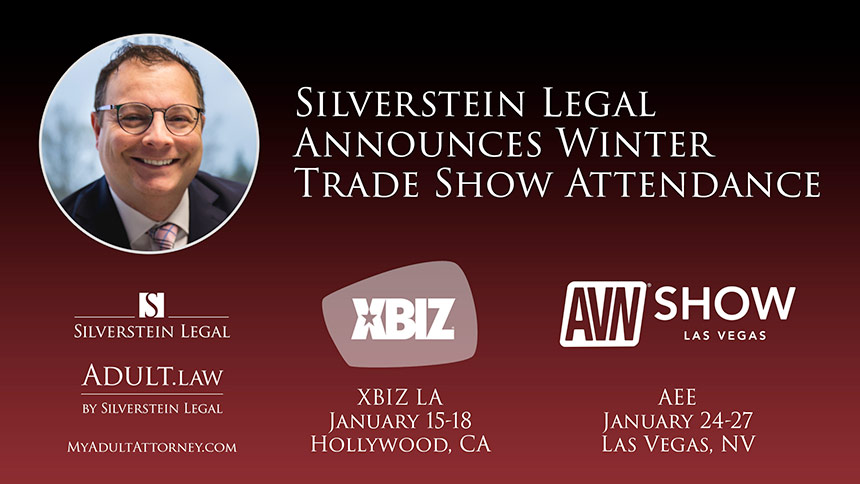 November 27, 2023
Reach out today to set your appointment with #myadultattorney in Los Angeles and/or Las Vegas! Cyberspace (November 27, 2023) - Adult attorney Corey D. Silverstein, the driving force behind MyAdultAttorney.com and Adult.Law, recently announced he will be attending XBIZ LA and AVN's Adult Entertainment Expo (AEE) in January, marking the industry's seminal both for business and community development.   XBIZ LA takes place from January 15 - 18 in Hollywood, CA. AEE is slated for January 24 - 27 in Las Vegas, NV. Silverstein is already setting appointments for what promises to be a lively and informative pair of trade shows. Current and prospective clients, as well as industry friends, are invited to reach out today to set an appointment with #myadultattorney in Los Angeles and/or Las Vegas! Silverstein can be reached directly via corey@silversteinlegal.com. "I'm inching closer to 20 years of trade shows, but my excitement for January is as strong as ever," said Silverstein. "I can't wait to reconnect and collaborate with so many incredible members of the adult entertainment industry and get to discuss the seemingly endless age verification legislation coming from individual states," Silverstein continued, highlighting a hot topic that should be on everyone's minds. Corey D. Silverstein is the managing…