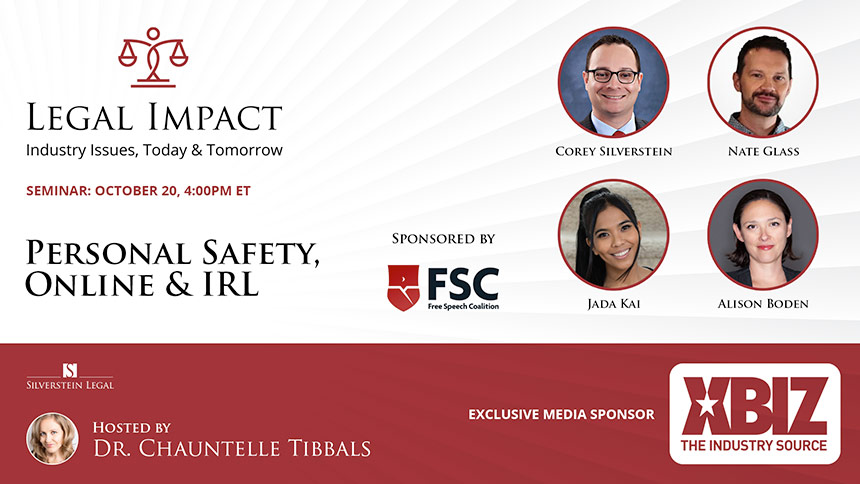 Join attorney Corey D. Silverstein for a discussion about personal safety, both online and in daily in-person life.
Cyberspace (October 14, 2022) – Join adult industry attorney Corey D. Silverstein, the driving force behind MyAdultAttorney.com and Adult.Law, and esteemed guests for the fourth event in Silverstein Legal's Legal Impact series.
The "Personal Safety, Online & IRL" live-streamed event is happening on October 20th at 4 pm ET (1 pm PT) via Zoom. It will feature special guests Nate Glass (Takedown Piracy), Alison Boden (Free Speech Coalition/FSC), and content creator and performer Jada Kai. The event is sponsored by the FSC and will be hosted by sociologist Dr. Chauntelle Tibbals.
It's never been more important to know how to protect yourself online – and in your daily in-person life – from threats facing those working in adult. During this discussion, industry experts and thought leaders will share practical guidance for keeping your private information safe from stalkers, trolls, and other dangerous people and entities, as well as what to do if you are targeted.
Register for free via EventBrite.
"Performer safety has always been the priority in the adult entertainment industry," Silverstein said, "but as performers have transitioned into the world of self-production and endless social media interaction – a massive shift overall – the challenges associated with performer safety have grown tremendously."
"These types of discussions are essential for all performers, and I'm looking forward to this opportunity to provide some invaluable tools that can immediately help," Silverstein continued.
Kai echoed Silverstein's sentiments, stressing the importance of education and awareness.
"As a community in the adult business, we must protect ourselves as best we can for peace of mind, health, and safety," Kai said. "In order to do so we must educate ourselves and be aware of the threats that may affect us both online and in person. I look forward to sharing my personal experiences and hearing from you!"
Glass also emphasized the importance of awareness, alluding to the often inadvertent ways in which personal information is disseminated online.
"My company spends the majority of our time dealing with the dark side of the internet, and it blows my mind when content creators serve up their personal information to cyber-criminals so easily," Glass shared. "There are many basic steps content creators can take to protect themselves, and we look forward to sharing our expertise with viewers."
Legal Impact live webinar events will be hosted by sociologist Dr. Chauntelle Tibbals and are produced in conjunction with exclusive media sponsor XBIZ. All live events are free to attend for all members of the adult entertainment community and will be posted subsequently on MyAdultAttorney.com, Adult.Law, and XBIZ.tv.
Register for "Personal Safety, Online & IRL"
Corey D. Silverstein is the managing and founding member of Silverstein Legal. His practice focuses on representing all areas of the adult industry. Silverstein is also the founder of subscription service Adult.Law. Those interested in subscribing to Adult.Law's services can learn more about subscription tiers here.
Join Silverstein on Twitter at @myadultattorney and on Instagram at @coreydsilverstein.
About Silverstein Legal
Founded in 2006 by adult entertainment lawyer Corey D. Silverstein, Silverstein Legal is a boutique law firm that caters to the needs of anyone working in the adult entertainment industry. Silverstein Legal's clients include hosting companies, affiliate programs, content producers, processors, designers, developers, and website operators.
About Adult.Law
Adult.Law is a subscription legal service founded by attorney Corey D. Silverstein. Launched in 2020, Adult.Law aims to make legal counsel accessible to as many members of the adult entertainment community as possible. Adult.Law subscribers receive 24/7 access to legal resources specific to the adult industry and individualized 1-on-1 legal consulting from one of the most experienced legal teams in the space.