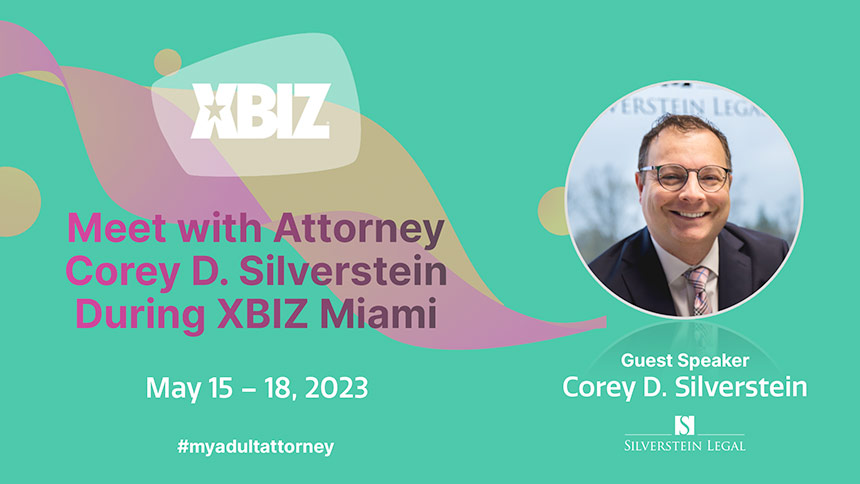 Schedule your on-site appointment now to meet with the industry's top legal mind!
Cyberspace (May 5, 2023) – Corey D. Silverstein, the driving force behind MyAdultAttorney.com and Adult.Law, will be attending XBIZ Miami in May 2023. Attendees can schedule an on-site appointment with Silverstein during the show, as well as attend his speaking events.
XBIZ Miami is happening from May 15 – 18, 2023 at the Sagamore Hotel in Miami, FL. Show information can be found at xbizmiami.com.
Silverstein will be available for meetings and consultations throughout the duration of the show. Prospective clients, existing clients, and/or anyone just wanting to say hello are encouraged to schedule a meeting in advance of the show by emailing corey@silversteinlegal.com directly.
"XBIZ Miami is an essential tradeshow to attend for everyone in the adult entertainment industry, regardless of your role," Silverstein said. "This is a phenomenal opportunity for networking, education, and business development."
"I can't wait to catch up with all of my clients and friends," Silverstein continued, adding that, "It certainly doesn't hurt to get to participate in all of the functions and activities in the sun!"
Silverstein's expert speaking and legal seminar schedule is forthcoming. Details will be available soon!
Corey D. Silverstein is the managing and founder member of Silverstein Legal and the founder of subscription service Adult.Law. His practice focuses on representing all areas of the adult industry. He can easily be reached through his contact page. Performers and content creators interested in accessing Adult.Law's resources can learn more about subscription tiers at adult.law/subscriptions.
Join Silverstein on Twitter at @myadultattorney and on Instagram at @coreydsilverstein.
About Silverstein Legal
Founded in 2006 by adult entertainment lawyer Corey D. Silverstein, Silverstein Legal is a boutique law firm that caters to the needs of anyone working in the adult entertainment industry. Silverstein Legal's clients include hosting companies, affiliate programs, content producers, processors, designers, developers, and website operators.
About Adult.Law
Adult.Law is a subscription legal service founded by attorney Corey D. Silverstein. Launched in 2020, Adult.Law aims to make legal counsel accessible to as many members of the adult entertainment community as possible. Adult.Law subscribers receive 24/7 access to legal resources specific to the adult industry and individualized 1-on-1 legal consulting from one of the most experienced legal teams in the space.