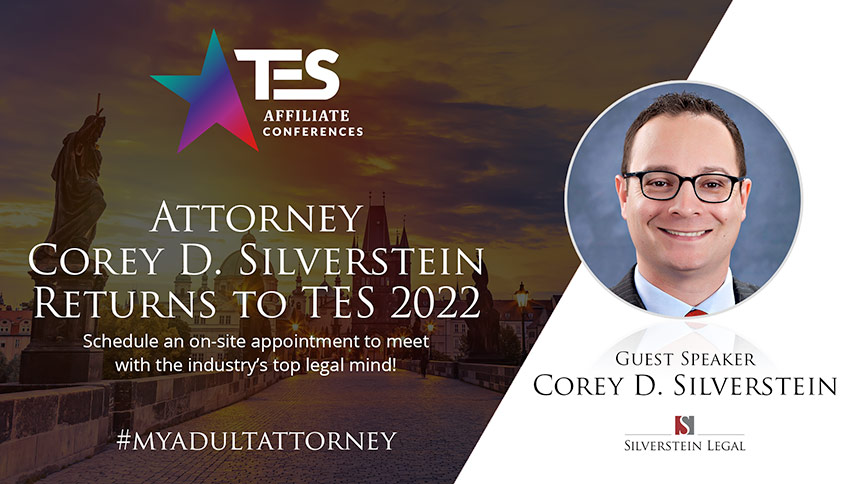 Schedule your on-site appointment now to meet with the industry's top legal mind!
Cyberspace (August 15, 2022) – Corey D. Silverstein, the driving force behind MyAdultAttorney.com and Adult.Law will be attending The European Summit Affiliate Conferences (TES) next week. Attendees can schedule an on-site appointment with Silverstein during the show, as well as attend his seminar speaking event.
TES is happening from August 22 – 25 at the Vienna House Diplomat Hotel in Prague, Czech Republic. Register here.
Silverstein is returning as a sponsor for the show and will have a dedicated meeting room – Rome, which is located on the show's first floor – available on August 23rd and 24th from 11 am – 5 pm (local time). Prospective clients, existing clients, and/or anyone just wanting to say hello can stop by to meet Silverstein.
Visitors are encouraged to schedule a meeting in advance of the show by emailing corey@silversteinlegal.com directly.
"I cannot wait to have my boots on the ground in Prague," Silverstein said. "This is my first post-COVID European trade show, and I couldn't possibly have picked a better event. I can't wait to see old friends, make new friends, and help all attendees with their legal needs."
In addition to one-on-one meetings, Silverstein will also be sharing his expertise during the "Legal Update" seminar. The seminar is now scheduled for August 24, 2022 from 4 – 4:50 PM (local time).
During the "Legal Update" seminar event, participants will discuss the legal landscape for online businesses, which has never been more complex. For instance, in the United States, Section 230 is under attack, leaving an uncertain future for online service providers. Meanwhile, in the EU, age verification is once again making headlines as data privacy regulation continues. This seminar is a can't miss legal update for all attendees.
"This presentation is going to talk about all of the breaking news in our space, including VISA's recent headlines," Silverstein shared. "This will be a no-holds-barred discussion, so come prepared with all of your questions!"
Corey D. Silverstein is the managing and founder member of Silverstein Legal and the founder of subscription service Adult.Law. Adult.Law. His practice focuses on representing all areas of the adult industry. Those interested in retaining Adult.Law's services can learn more about subscription tiers here.
Join Silverstein on Twitter at @myadultattorney and on Instagram at @coreydsilverstein.
About Silverstein Legal
Founded in 2006 by adult entertainment lawyer Corey D. Silverstein, Silverstein Legal is a boutique law firm that caters to the needs of anyone working in the adult entertainment industry. Silverstein Legal's clients include hosting companies, affiliate programs, content producers, processors, designers, developers, and website operators.
About Adult.Law
Adult.Law is a subscription legal service founded by attorney Corey D. Silverstein. Launched in 2020, Adult.Law aims to make legal counsel accessible to as many members of the adult entertainment community as possible. Adult.Law subscribers receive 24/7 access to legal resources specific to the adult industry and individualized 1-on-1 legal consulting from one of the most experienced legal teams in the space.