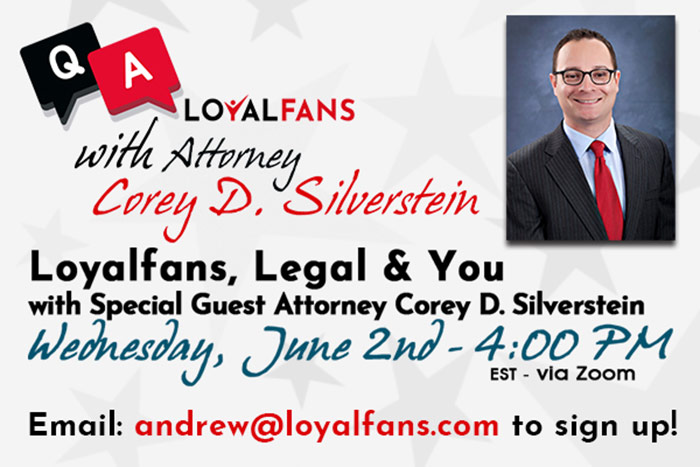 Silverstein will be on hand to answer questions and explore topics relevant to creators working on premium social media fan club sites.
Cyberspace (May 28, 2021) – Premium social media fan club Loyalfans.com is pleased to announce "Loyalfans, Legal & You," an informative, interactive webinar featuring attorney Corey D. Silverstein.
"Loyalfans, Legal & You" will happen on Wednesday June 2, 2021 at 4 pm EST. Loyalfans creators interested in attending must email andrew@loyalfans.com prior to the event to sign up.
On Loyalfans, creators are the masters of their own domains! Creators retain content ownership and can utilize the site's flexible features however best suits individual brands and goals — but with great power comes great responsibility. Silverstein will be on hand to answer questions about legal responsibilities as an online content creator within the Loyalfans space, as well as share his insights regarding industry hot topics and issues.
"We are so excited to host this event for our creators!" said Loyalfans co-founder Eduard A. Braileanu. "Corey Silverstein is a friendly and engaging person that can make even the scariest or most overwhelming legal topic seem approachable and — if relevant — solvable."
"We aim to provide Loyalfans creators with the best resources, and Corey is the premier legal mind serving the adult industry community," Braileanu added.
Some topics that will be covered during the event include documentation requirements, credit card processing rules and regulations, requirements for creators outside the US, and more. Creators are invited to submit any specific and/or additional questions they have for Silverstein prior to the event via andrew@loyalfans.com.
"The opportunity to help educate Loyalfans' quickly growing community is an invitation that I couldn't pass up," Silverstein enthused.
"The premium fan site marketplace continues to make headlines and has caught the attention of politicians and policy makers," Silverstein continued. "Now is an excellent time for newbies and veterans alike to get caught up on some of the hottest legal topics the industry is facing."
Join us for "Loyalfans, Legal & You" on Wednesday June 2, 2021 at 4 pm EST. Remember to sign up in advance to attend this important, useful webinar.
On Loyalfans, artists and content creators can turn their inventiveness and influence into thriving businesses via the most advanced and innovative technology available. The site's features and tools include customizable messaging, live streaming, video chat, audio recording and podcasting, video and photo sharing, and more.
Loyalfans prides itself on transparency, inclusivity, authenticity, and stability. The platform offers 80% payouts across the board, with optional rev shares available. Safe, stable payments occur on-time twice per month via wire transfer, Paxum, ACH, and SEPA. A community-forward space, Loyalfans is committed to not putting limitations on earning potential, nor will the platform make significant policy changes without providing advance notice and opportunity for discussion. Artists and content creators have direct access to 24/7 site support, as well as direct access to site programmers and developers.
For more information about Loyalfans, contact media@loyalfans.com or go to Loyalfans.com to start a creator account.
Let your existing fans and followers know you're on Loyalfans.com to take advantage of all the features the platform has to offer!
Loyalfans invites all people and personalities to create, share, and connect via the platform, thereby manifesting opportunities to earn revenue and grow. Loyalfans welcomes and supports all forms of positive, consensual, creative expression.
About Silverstein Legal
Founded in 2006 by adult entertainment lawyer Corey D. Silverstein, Silverstein Legal is a boutique law firm that caters to the needs of anyone working in the adult entertainment industry. Silverstein Legal's clients include hosting companies, affiliate programs, content producers, processors, designers, developers, and website operators.
About Loyalfans.com
Loyalfans.com is a premium social media fan club that enables influencers, creators, artists, public figures, and all types of compelling people to interact with and share various forms of original content with their most loyal fans. Creators' loyal fans can become supporters in exchange for exclusive benefits offered via the platform, facilitating an opportunity to turn individual ingenuity and influence into a thriving business.