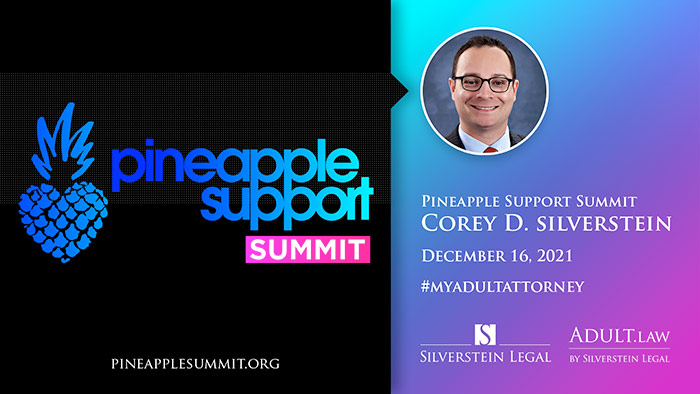 Silverstein will speak to wider legal issues and the state of the industry during the virtual event on December 16, 2021.
Cyberspace (December 7, 2021) – Attorney Corey D. Silverstein is slated to speak during two separate events held as part of Pineapple Support's 3rd Annual Mental Health Summit.
Silverstein, the driving force behind MyAdultAttorney.com and Adult.Law, will provide a legal update at 10 am PT on December 16. He will also join a panel of "industry insiders and corporate leaders" to discuss the impact of 2021, predictions for 2022, and strategies to ensure more security in front of and behind the camera at 2 pm PT that same day.
"Pineapple Support's Mental Health Summit is an incredible event, and I'm excited to be able to participate and donate my time and expertise," Silverstein said. "I'm planning to make this a very special presentation and am happy to announce that attorney Lawrence Walters will also be presenting during the legal update."
The Pineapple Support Mental Health Summit 2021's stated focus is "resilience, support, security, and planning for the future."
"After the previous turbulent few months and a number of significant legal updates, we are particularly honored to have the adult industry's leading attorney Corey Silverstein sharing his expertise at this year's Mental Health Summit," said Leya Tanit Founder and CEO of Pineapple Support.
"It is more important than ever for persons at all levels and working in all areas of adult to have an understanding of the current requirements and regulations," Tanit continued. "It is only with this knowledge that we can move forward with confidence and security.
Register for the virtual event here.
Silverstein is the managing and founder member of Silverstein Legal and the founder of subscription service Adult.Law. His practice focuses on representing all areas of the adult industry. Those interested in retaining Adult.Law's services can learn more about subscription tiers here.
Join Silverstein on Twitter at @myadultattorney and on Instagram at @coreydsilverstein.
About Silverstein Legal
Founded in 2006 by adult entertainment lawyer Corey D. Silverstein, Silverstein Legal is a boutique law firm that caters to the needs of anyone working in the adult entertainment industry. Silverstein Legal's clients include hosting companies, affiliate programs, content producers, processors, designers, developers, and website operators.
About Adult.Law
Adult.Law is a subscription legal service founded by attorney Corey D. Silverstein. Launched in 2020, Adult.Law aims to make legal counsel accessible to as many members of the adult entertainment community as possible. Adult.Law subscribers receive 24/7 access to legal resources specific to the adult industry and individualized 1-on-1 legal consulting from one of the most experienced legal teams in the space.