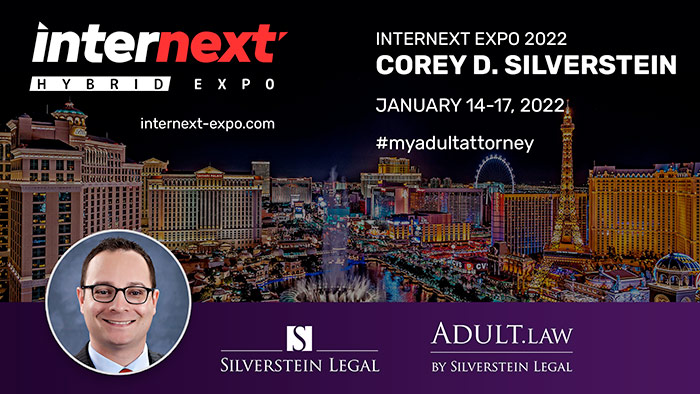 The industry's foremost legal expert will be presenting two educational seminars during the Las Vegas event.
Cyberspace (January 10, 2022) – Adult Industry attorney Corey D. Silverstein, the driving force behind MyAdultAttorney.com and Adult.Law, will be speaking during two educational events during this year's #interNEXT Expo.
First, Silvestein will be presenting a "Legal 101 for Content Creators" on Saturday January 15th at 2 pm PT.
In today's industry, conventional content creation has been practically replaced by content creators going into business for themselves. This seminar will focus on the legal fundamentals that every content creator needs to know – including setting up a business, protecting intellectual property, utilizing proper documentation, and avoiding the many legal pitfalls associated with content production – and is perfect for all content creators, whether new to the industry or veterans.
Silverstein will also be speaking during the "Legal Industry Updates" alongside attorney Larry Walters on Sunday January 16th at 11:00 am PT.
Website operators and content publishers have been under siege by new Mastercard rules, while mainstream media continues to target adult entertainment businesses. Further, Section 230 is under constant attack, and new data privacy trolls are testing the online adult entertainment industry. This "big picture" seminar will help prepare attendees for protective actions that need to be taken in 2022.
"I can't wait to reconnect, in-person, with the best and brightest of the adult entertainment industry," said Silverstein. "Internext has always been an incredible event for entrepreneurs to learn, network and engage with other members of the industry. I'm counting down the days until the 14th!"
2022 marks the 25th Anniversary of the #interNEXT Expo, a leading B2B tech conference for the online adult entertainment industry. This year's event is from January 14 – 17 in Las Vegas NV. See internext-expo.com for more information.
Silverstein is the managing and founder member of Silverstein Legal and the founder of subscription service Adult.Law. His practice focuses on representing all areas of the adult industry. Those interested in retaining Adult.Law's services can learn more about subscription tiers here.
Join Silverstein on Twitter at @myadultattorney and on Instagram at @coreydsilverstein.
About Silverstein Legal
Founded in 2006 by adult entertainment lawyer Corey D. Silverstein, Silverstein Legal is a boutique law firm that caters to the needs of anyone working in the adult entertainment industry. Silverstein Legal's clients include hosting companies, affiliate programs, content producers, processors, designers, developers, and website operators.
About Adult.Law
Adult.Law is a subscription legal service founded by attorney Corey D. Silverstein. Launched in 2020, Adult.Law aims to make legal counsel accessible to as many members of the adult entertainment community as possible. Adult.Law subscribers receive 24/7 access to legal resources specific to the adult industry and individualized 1-on-1 legal consulting from one of the most experienced legal teams in the space.