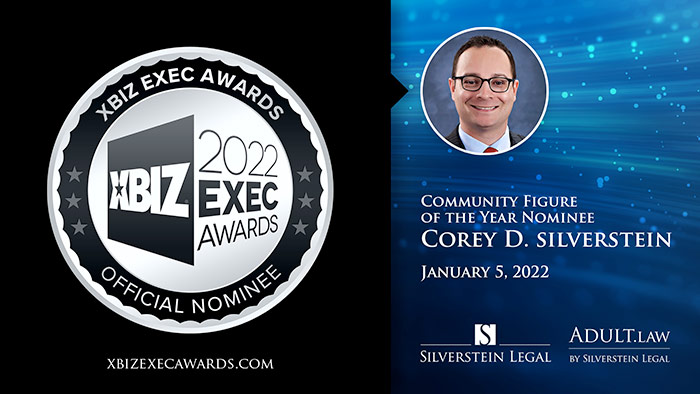 Intelligent, iconic, and feisty, the industry's premier attorney has been aptly nominated for XBIZ's 'Community Figure of the Year' award.
Cyberspace (November 10, 2021) – Attorney Corey D. Silverstein has been nominated for a 2022 XBIZ Exec Award. Intelligent, iconic, and feisty, the industry's premier attorney has been aptly tapped for the "Community Figure of the Year" category. Silverstein, the driving force behind MyAdultAttorney.com and Adult.Law, is one of ten nominees.
"The XBIZ Exec Awards nominees are selected by industry voting, so it is really cool to be recognized by my peers," Silverstein said. "It's an honor to have been selected with a group of the industry's hardest working people."
Silverstein continued, "Winning this award would be awesome, but the nomination alone is very special. Congrats to all of the nominees!"
The XBIZ Exec Awards will be presented as part of the annual XBIZ Honors ceremony on Wednesday January 5, 2022 at the Kimpton Everly Hotel in Hollywood.
The annual XBIZ Exec Awards honor the best of the best from the adult business community for their outstanding creativity and leadership, celebrating exceptional career achievement across a wide variety of prominent industry roles. Nominees are selected based on a range of success factors including business acumen, community standing, and overall leadership.
Voting for the 2022 XBIZ Exec Awards is currently ongoing via XBIZ.net and will continue through Tuesday, November 23.
Silverstein is the managing and founder member of Silverstein Legal and the founder of subscription service Adult.Law. His practice focuses on representing all areas of the adult industry. Those interested in retaining Adult.Law's services can learn more about subscription tiers here.
Join Silverstein on Twitter at @myadultattorney and on Instagram at @coreydsilverstein.
About Silverstein Legal
Founded in 2006 by adult entertainment lawyer Corey D. Silverstein, Silverstein Legal is a boutique law firm that caters to the needs of anyone working in the adult entertainment industry. Silverstein Legal's clients include hosting companies, affiliate programs, content producers, processors, designers, developers, and website operators.
About Adult.Law
Adult.Law is a subscription legal service founded by attorney Corey D. Silverstein. Launched in 2020, Adult.Law aims to make legal counsel accessible to as many members of the adult entertainment community as possible. Adult.Law subscribers receive 24/7 access to legal resources specific to the adult industry and individualized 1-on-1 legal consulting from one of the most experienced legal teams in the space.