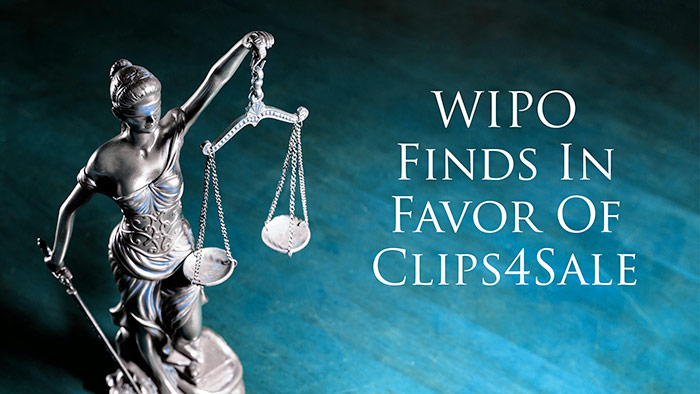 WIPO recently found in favor of C4S, preventing bad faith use of the 'confusingly similar' domain.
Cyberspace (February 22, 2022): Clips4Sale.com (C4S), the original and #1 downloadable video clips site, and adult industry attorney Corey D. Silverstein, the driving force behind MyAdultAttorney.com and Adult.Law, recently prevailed in a decision regarding the bad faith registration and potential use of the "confusingly similar" domain Clips4Crypto.com.
A complaint regarding Clips4Crypto was filed with the WIPO (World Intellectual Property Organization) arbitration and mediation center on November 23, 2021. After following proper procedure and conducting an in-depth investigation, WIPO concluded that the domain was registered in bad faith. WIPO thus ordered the domain Clips4Crypto be transferred to Clips4Sale on February 11, 2022.
See this document for a full rendering of WIPO's administrative panel decision process.
"Although it is unfortunate my client was forced to pursue formal legal proceedings, we are pleased with WIPO's decision in this case," Silverstein said. "Clips4Sale will not tolerate the abuse of its intellectual property and will aggressively pursue all infringers."
Per WIPO, GoDaddy.com – the service by which Cryps4Crypto was originally registered – must transfer ownership of the onerous domain to Clips4Sale by the tenth business day post notification.
Silverstein is the managing and founder member of Silverstein Legal and the founder of subscription service Adult.Law. His practice focuses on representing all areas of the adult industry. Those interested in retaining Adult.Law's services can learn more about subscription tiers here.
Join Silverstein on Twitter at @myadultattorney and on Instagram at @coreydsilverstein.
About Silverstein Legal
Founded in 2006 by adult entertainment lawyer Corey D. Silverstein, Silverstein Legal is a boutique law firm that caters to the needs of anyone working in the adult entertainment industry. Silverstein Legal's clients include hosting companies, affiliate programs, content producers, processors, designers, developers, and website operators.
About Adult.Law
Adult.Law is a subscription legal service founded by attorney Corey D. Silverstein. Launched in 2020, Adult.Law aims to make legal counsel accessible to as many members of the adult entertainment community as possible. Adult.Law subscribers receive 24/7 access to legal resources specific to the adult industry and individualized 1-on-1 legal consulting from one of the most experienced legal teams in the space.