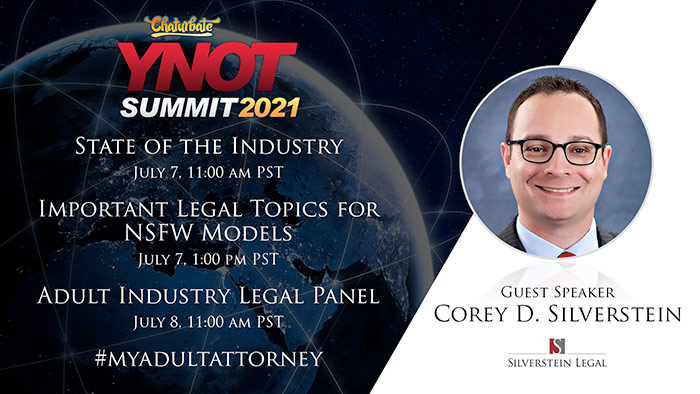 #MyAdultAttorney Silverstein will lend his expertise and insights during three upcoming YNOT Summit seminars.
Cyberspace (July 5, 2021) – Corey D. Silverstein, the driving force behind MyAdultAttorney.com and Adult.Law, will lend his expertise and insights during three YNOT Summit events, happening later this week.
Silverstein will appear on July 7th at 11 am PST in the "State of the Industry" event. During this event, a group of adult business professionals will talk about the state of the industry, including current challenges and big opportunities. Then, later that same day, Silverstein will speak during the "Important Legal Topics for NSFW Models" event at 1 pm PST.
On July 8th, Silverstein will appear on the "Adult Industry Legal Panel" at 11 am PST. During this event, a panel of veteran attorneys will discuss the latest legal developments impacting the adult entertainment business.
"When I began my venture into the adult entertainment space 17 years ago, YNOT was legendary," Silverstein said. "Now, in 2021, YNOT is still a leader in networking, education, and resources for anyone in the business." 
It is a privilege to be returning for this event and I'm excited for this opportunity to help provide legal information to all of this industry's amazing entrepreneurs," he added.
Registration for the YNOT Summit is free and open now via the HOPIN platform: hopin.com/events/ynot-summit-2021. In addition to its Model Track, the event also offers a Webmaster Track with seminars and sessions for adult affiliates, marketing professionals, and executives. 
Silverstein is the managing and founder member of Silverstein Legal and the founder of subscription service Adult.Law. His practice focuses on representing all areas of the adult industry. Those interested in retaining Adult.Law's services can learn more about subscription tiers here: adult.law/subscriptions/
Join Silverstein on Twitter at @myadultattorney and on Instagram at @coreydsilverstein.
About Silverstein Legal
Founded in 2006 by adult entertainment lawyer Corey D. Silverstein, Silverstein Legal is a boutique law firm that caters to the needs of anyone working in the adult entertainment industry. Silverstein Legal's clients include hosting companies, affiliate programs, content producers, processors, designers, developers, and website operators.