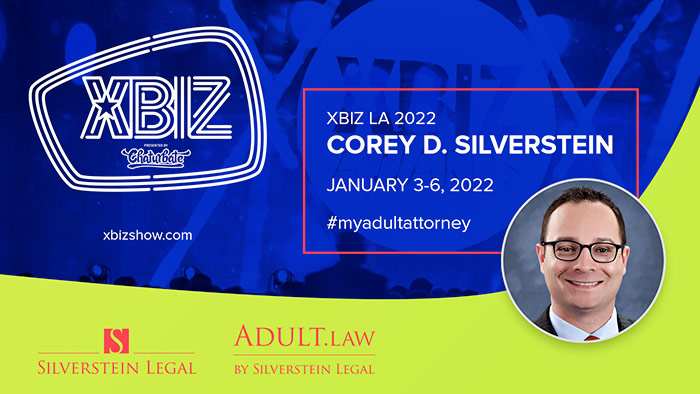 Silverstein will be participating in four educational events during XBIZ LA 2022!
Cyberspace (December 20, 2021) – Attorney Corey D. Silverstein is aiming to infuse XBIZ LA 2022 with legal expertise! Silverstein, the driving force behind MyAdultAttorney.com and Adult.Law, will be participating in an unprecedented four educational events during next month's in-person tradeshow event. He is also nominated for a 2022 XBIZ Exec Award in the "Community Figure of the Year" category.
On Tuesday January 4, Silverstein will join the Mindbrowse event, "Anti-Porn Activism in a Pro-Sex World." Organized and moderated by Dr. Chauntelle Tibbals, this discussion will address current tensions existing between the adult industry and wider society. The event, which begins at 3 pm that day, will be live broadcast courtesy of Sssh.com.
On Wednesday January 5, Silverstein will be present during three total events.
First, at noon, Silverstein will share legal insights specifically for artists, creators, and online sex workers during "Level Up: Law, Resources & Reality for Content Creators." Silverstein will unpack the ins-and-outs of legal issues facing independent content creators today, as well as share resources available via subscription-based legal service Adult.Law. Iconic superstar Jada Kai will join Silverstein during this event.
Next, Silverstein will share his perspective during the "Legal Outlook: Hot-Button Issues in Adult event at 2 pm. This seminar will explore the unique legal minefields currently impacting the industry.
Finally, Silverstein will moderate the "State of the Industry: 2022 New Year Edition" at 3 pm. This exclusive, must-attend panel will feature industry thought leaders and visionaries sharing expert opinions and predictions about the biggest trends, market shifts, opportunities, and challenges impacting the industry today and in the future.
"The XBIZ LA tradeshow is a fixture in the adult entertainment industry, and the participants and presenters are at the top of the business," said Silverstein.
"I haven't missed an XBIZ tradeshow in a decade, and I'm thrilled to be able to engage with the best and brightest," he continued. "And of course, the return to an in-person event makes this XBIZ LA even more special."
The XBIZ LA tradeshow is happening from January 3-6 at the Kimpton Everly Hotel in Los Angeles, CA.
Silverstein is the managing and founder member of Silverstein Legal and the founder of subscription service Adult.Law. His practice focuses on representing all areas of the adult industry. Those interested in retaining Adult.Law's services can learn more about subscription tiers here.
Join Silverstein on Twitter at @myadultattorney and on Instagram at @coreydsilverstein.
About Silverstein Legal
Founded in 2006 by adult entertainment lawyer Corey D. Silverstein, Silverstein Legal is a boutique law firm that caters to the needs of anyone working in the adult entertainment industry. Silverstein Legal's clients include hosting companies, affiliate programs, content producers, processors, designers, developers, and website operators.
About Adult.Law
Adult.Law is a subscription legal service founded by attorney Corey D. Silverstein. Launched in 2020, Adult.Law aims to make legal counsel accessible to as many members of the adult entertainment community as possible. Adult.Law subscribers receive 24/7 access to legal resources specific to the adult industry and individualized 1-on-1 legal consulting from one of the most experienced legal teams in the space.