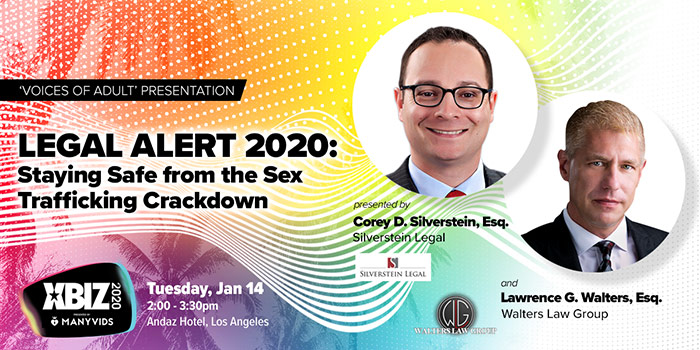 The XBIZ 2020 Tradeshow has finally arrived and this year's show is touting "over 1,500 players across all facets of the industry for boundless opportunities in the world capital of adult." This year's event takes place from January 13-January 17 2020 at the Andaz Hotel in West Hollywood, CA.
Silverstein Legal is proud to announce that adult entertainment attorney Corey D. Silverstein will be in attendance as a featured speaker, awards finalist and sponsor.
In terms of speaking events, adult website attorney Corey D. Silverstein will be speaking at the following seminars:
NMG Presents: Content Monetization the Right Way
Tuesday, January 14, 2020: 1:00pm – 1:50pm
Industry experts across various fields will discuss how producers can best protect their content, in addition to revealing tips and tricks to ensure they are creating material with the most options for monetization.
Speakers: Natalia Kaplan (Pornhub/Modelhub), Jacky St. James (Mike High Media), Corey D. Silverstein, Esq. (Silverstein Legal), and Megan Stokes (NMG Management)
Legal Alert 2020: Staying Safe from the Sex Trafficking Crackdown
Tuesday, January 14, 2020: 2:00pm – 3:30pm
In the wake of FOSTA-SESTA and increased public scrutiny of the adult industry as a result of anti-porn group lobbys that conflate porn with sex trafficking, two esteemed industry lawyers share their professional insight on how adult content creators can stay safe from the misuse of anti-trafficking laws in an increasingly censored online space.
Speakers: Corey D. Silverstein, Esq. (Silverstein Legal), Lawrence G. Walters, Esq. (Walters Law Group)
The Legal Landscape: A 2020 Preview
Thursday, January 16, 2020: 11:00am – 11:50am
The past year has seen a myriad of policy changes from age verification in the U.K. to AB5 in California. As the War on Porn ramps up during the electoral year, join top adult entertainment lawyers for a discussion of everything you need to know to protect your business in 2020.
Silverstein Legal is also excited to be sponsoring the 2nd Annual Rooftop Rage with MojoHost on Tuesday January 14, 2020 at 10pm. This event will feature the Who's-Who of the adult industry, welcoming all XBIZ 2020 attendees and sponsors.
Adult business attorney Corey D. Silverstein will also be spending the tradeshow meeting privately with existing and potential clients. Please contact Corey D. Silverstein here to schedule a meeting.