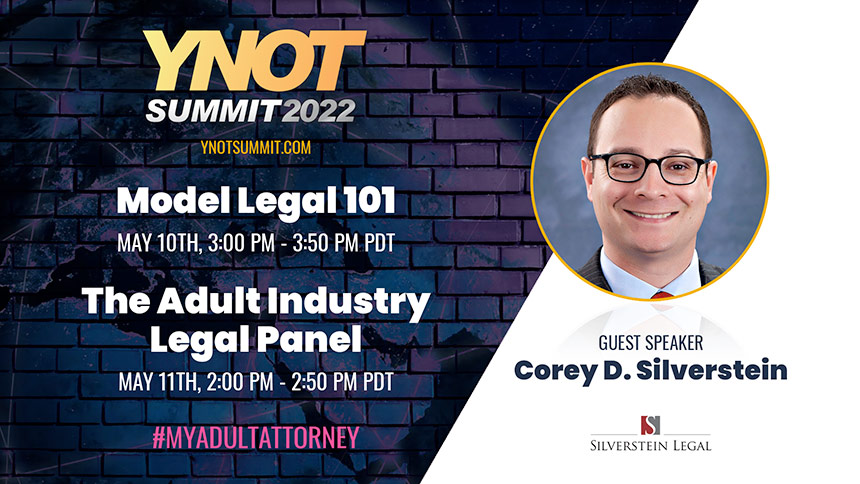 #MyAdultAttorney Silverstein will lend his expertise and insights during two upcoming YNOT Summit seminars.
Cyberspace (May 5, 2022) – Corey D. Silverstein, the driving force behind MyAdultAttorney.com and Adult.Law, will lend his expertise and insights during two YNOT Summit events, happening later this month.
Silverstein will appear on May 10th at 3 pm PT for the "Model Legal 101" event. During this event, Silverstein will speak to a variety of issues that directly impact models and content creators.
Then, on May 11th at 2 pm PT, Silverstein will appear on the "Adult Industry Legal Panel." During this event, a panel of veteran attorneys and industry pundits will discuss the latest legal developments impacting the adult entertainment business.
"The YNOT Summit continues to be an exceptional opportunity for all members of the adult entertainment industry to network, learn, and discuss the biggest events and issues in the industry," said Silverstein.
"It's a privilege to have been invited back as a speaker, and I'm looking forward to the event," Silverstein continued.
Registration for the YNOT Summit is free and open now via the HOPIN platform. In addition to its Model Track, the event also offers a Webmaster Track with seminars and sessions for adult affiliates, marketing professionals, and executives.
Silverstein is the managing and founder member of Silverstein Legal. His practice focuses on representing all areas of the adult industry. Silverstein is also the founder of subscription service Adult.Law. Those interested in subscribing to Adult.Law's services can learn more about subscription tiers here.
Join Silverstein on Twitter at @myadultattorney and on Instagram at @coreydsilverstein.
About Silverstein Legal
Founded in 2006 by adult entertainment lawyer Corey D. Silverstein, Silverstein Legal is a boutique law firm that caters to the needs of anyone working in the adult entertainment industry. Silverstein Legal's clients include hosting companies, affiliate programs, content producers, processors, designers, developers, and website operators.
About Adult.Law
Adult.Law is a subscription legal service founded by attorney Corey D. Silverstein. Launched in 2020, Adult.Law aims to make legal counsel accessible to as many members of the adult entertainment community as possible. Adult.Law subscribers receive 24/7 access to legal resources specific to the adult industry and individualized 1-on-1 legal consulting from one of the most experienced legal teams in the space.