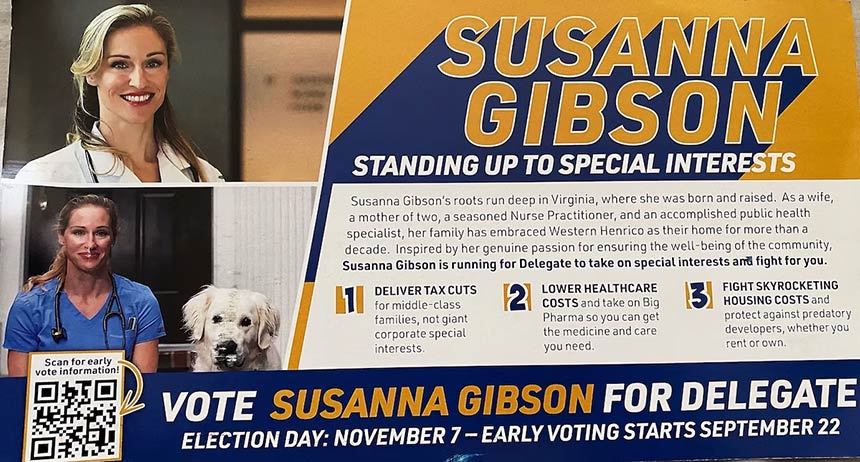 Susanna Gibson is a Democratic candidate running for Delegate for Virginia's 57th District.
She is a nurse practitioner and public health expert who has dedicated her career to ensuring her patients have the resources they need for a good quality of life. She is also a wife and mother who has spent her career advocating for families and fighting for access to affordable quality healthcare, including reproductive healthcare.
Recently, Susanna Gibson has been in the news due to an unexpected scandal after her explicit videos with her husband online were exposed. Gibson and her husband performed sex acts in front of an online audience and received tips from viewers. Gibson claims that sharing the videos is "an illegal invasion of my privacy" and "a sex crime". She says she will not be intimidated or silenced by the scandal.
On September 11, 2023, the Washington Post published an article written by journalist, Laura Vozzella entitled "Va. Dem. House candidate performed sex online with husband for tips." As part of her article, Laura Vozzella interviewed adult attorney Corey D. Silverstein who indicated that "There is absolutely no law that they are violating — none," he said. "In this case, you have two adults who are engaging in consensual sex, and they've decided they want to broadcast that, and they're doing so in exchange for tipping. There's absolutely nothing illegal about it."
"I think it's fantastic you have someone running who has an open sex life. It's actually very refreshing,"
About Silverstein Legal
Founded in 2006 by adult entertainment lawyer Corey D. Silverstein, Silverstein Legal is a boutique law firm that caters to the needs of anyone working in the adult entertainment industry. Silverstein Legal's clients include hosting companies, affiliate programs, content producers, processors, designers, developers, and website operators.